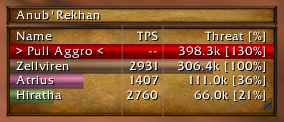 Since Zellviren's post about protection warriors in 5.0.4 I've been thinking about threat. What threat was, what it is, and what it has meant to me. I've played since The Burning Crusade, and threat and how it works has changed a lot since then - and so have player attitudes towards it. Disclaimer: All statements are based on my own experiences and may not be representative of Every Player Ever.
I "grew up" as a Hunter pugging my way through dungeons on my way to max level, learning kill marks (skull, then cross, square for trap, etc!), trapping, dungeon skills, etiquette and dps rotations. I learned which players were fun to group with, and why - usually by how good they were at communicating, marking, following instructions and managing threat.

Much of what I learned was necessary because of how threat worked at the time. Warrior and Druid Tanks could manage one mob easily, two mobs with effort, and three or four with superhuman skill (or so you'd think to hear them talk ;). Paladins were the only Tanks with good AoE threat built into their class, yet large pulls were still unwise due to the high mob damage relative to player health pools.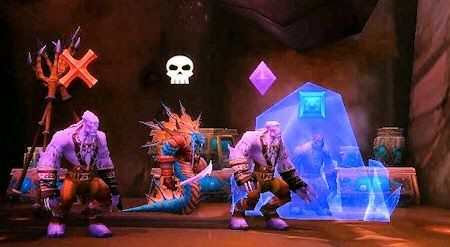 Crowd control (including off-tanking), waiting for Tanks to build aggro, and a good understanding of kill markings was required for most if not all pulls. This provided a clear and obvious skill-check - Tanks had to be good at holding threat, and DPS had to be good at enabling them to do so. These were skills to learn and take pride in that weren't just a number on a damage meter - I don't even remember discussing damage that much in pugs back then, it was utility and execution of tactics - and that is the atmosphere in which I learned to play the game.
There were flaws. Paladins were the go-to tank for any encounter that required good AoE threat. The developers deliberately inserted raid mechanics that prevented classes other than Warriors from main tanking for some bosses. Pantsless tanking in outgeared content was common due to the way rage and mana (and by extension, threat) worked with incoming damage. Classes who lacked crowd control abilities could find it very difficult to find groups for certain dungeons. Healers could accidentally grab aggro from mobs after throwing out an early heal.
Wrath of the Lich King introduced Death Knights to address the lack of available Tanks. Druids and Paladins were improved to make them as viable as Warriors for the main tanking role. These changes were beneficial to raid guilds and it also made five man pugs far more accessible due to the overall increase in tanking players. Even 10 and 25 man raid pugs started to become viable for relevant content.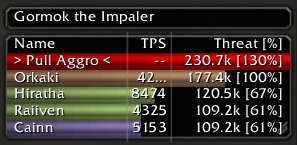 Tank AoE threat was buffed across the board which meant as soon as players were sufficiently geared up in the new heroics, the combination of increased Tank AoE threat and increased DPS AoE damage meant crowd control skills began to fall by the wayside. This lead to most heroic dungeons becoming a daily speed grind.
This didn't mean that DPS players en masse started denying their own responsibility for managing threat. Hunters and Rogues had threat transfer tools that were extremely useful for helping the tank establish initial threat. Kill markers were still used throughout the original heroics and raids up to Trial of the Crusader. While they started to fall out of fashion due to the exceptionally easy to come by raid gear of that patch, they made a comeback during the difficult Icecrown heroics and Icecrown Citadel.
However some DPS players didn't seem to understand the difficulty Tanks faced in holding threat and they didn't appreciate their potential role in aiding them. As the expansion progressed, with the unprecedented ease of outgearing content, I came across many players who had little respect for the Tank getting a couple of GCDs off. Additionally, there were many Tanks who didn't mark or communicate who then yelled at DPS when they hit the wrong thing. Neither DPS nor Tanks seemed to value communication and co-operation; to the point where PvE sometimes felt like PvP, only you're not allowed to kill the players. Unless you were a healer who could "accidentally" forget to heal a troublesome party member. Not that I ever took advantage of that or anything. ;)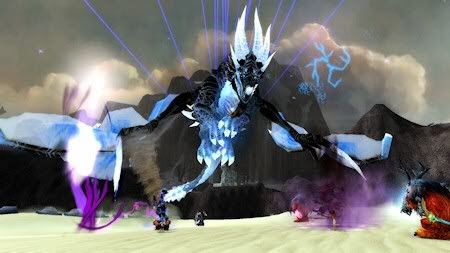 Also during Wrath of the Lich King, some Tanks successfully campaigned to have taunts and interrupts be 100% successful even without reaching the hit cap. They wanted to gear defensively instead of a mix of defensive and threat stats. As a result threat management became even less of an issue.


Vengeance, introduced in Cataclysm, is an attempt at resolving Tank threat scaling versus DPS threat scaling. An additional change in 4.3 was aimed at increasing the initial threat on the pull. Its debatable whether Vengeance is an effective solution, but what it has done is made managing threat largely obsolete for both Tank and DPS players.
I also think it has made pulling threat from a Tank something that "shouldn't happen", and that pulling threat off a Tank is never seen as a flaw in the DPS player, but always in the Tank. I don't think blame should be that automatic.

I feel this has removed a part of the game I found fun. I took pride in being skilled at managing my threat. I think the heart of the problem is that Vengeance has trivialised threat as a mechanic and I hope that Blizzard reconsiders this in the future.